Ganesh Himal Region
Ganesh Himal Region lies very close to Kathmandu valley. Located just 70 km north-west of the capital city. This beautiful trekking region has some of Nepal's newest trekking trails.
Sandwiched between Langtang and Manaslu regions, Ganesh Himal Region is filled with sacred lakes, spiritual sites and inspiring mountain scenery. The mountains in this region have vast reserves of precious stones, like ruby and sapphire, which are mined by local villagers.
Although easily accessible from Kathmandu, the region is rarely explored by trekkers. The Ministry of Tourism is trying to promote this region by introducing new trekking trails skirting the base of the mountain range and Tamang villages. Increased tourist traffic in this area will benefit the locals most of whom live below the poverty line.
The major mountain range in this region is Ganesh Himal, after which the region is named. Ganesh Himal range has four major peaks – Ganesh I(7,422m), Ganesh II(7,118m), Ganesh III(7,043m) and Ganesh IV (7,104m).
Lord Ganesh, the elephant headed Hindu god who is known as the 'remover of obstacles', is the guardian god of these mountains. The jagged summits of Ganesh Himal can be seen rising majestically from the trekking routes as well as from Kathmandu.
Situated between the ecologically rich Langtang National Park and Manaslu Conservation Area, Ganesh Himal Region is filled with rhododendron, pine and bamboo forests. These forests provide shelter to Himalayan tahr, musk deer, leopard, langur and several species of birds and butterflies.
Yarsagumba (caterpillar fungus), popularly known as Himalayan Viagra and prized for its aphrodisiac properties grows in the high alpine meadows of this region.
The sacred lakes of Ganesh Kunda, Parvati Kunda, Seto Kunda and Kalo Kunda of this region are pilgrimage sites. Regarded as places of immense spiritual power, shamans (Jhankris) and tantrics visit these lakes to energize themselves spiritually.
Waterfalls cascading down the mountainside and rivers thundering down the valleys are common sights. Twin waterfalls named Ganga Jamuna in Dhading is a popular spot for excursions among locals.
The trekking trails leading to this region goes through Tamang, Gurung and Chettri villages. These communities have their own distinct culture and language. While Tamangs follow Buddhism, Gurungs and Chettris are Hindus.
Visiting Tamang villages in the Rasuwa district will offer you a glimpse of 'Shamanic' or 'Jhankri' tradition which is widely prevalent in these settlements.
Ganesh Himal Region is also home to Nepal's rich traditional song and dance forms like Tamang Selo, Maruni, Dohori and Ghatu. The 'Jhankri' dance performed during a shamanic healing ritual, is part of Nepal's rich and unique indigenous mountain culture.
The lower foothills of the Ganesh Himal Region are covered with paddy fields and dense forests. Green alpine meadows, wildflowers and rare Himalayan herbs found in the pristine forests, make this region a perfect destination for botanists and nature lovers.
With no human habitation in the higher reaches and the nature left undisturbed, one gets to experience the landscape in its raw and pure state.
Lying off-the-beaten path the treks in the Ganesh Himal Region offers a new experience and territory to explore. As it lies close to Kathmandu, one can easily access the trailheads without any difficulty.
Trekking Routes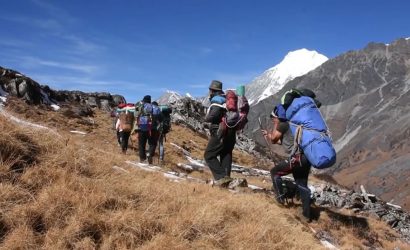 Available through out the year:
Jan
Feb
Mar
Apr
May
Jun
Jul
Aug
Sep
Oct
Nov
Dec

Available through out the year:
Jan
Feb
Mar
Apr
May
Jun
Jul
Aug
Sep
Oct
Nov
Dec

Available through out the year:
Jan
Feb
Mar
Apr
May
Jun
Jul
Aug
Sep
Oct
Nov
Dec