Ama Dablam Base Camp

Aside from the hugely popular Everest Base Camp trail, Everest Region has so many amazing trekking trails offering a perfect trekking experience. The route to the Ama Dablam Base Camp is one such trail. Lying at the foot of Ama Dablam, one of the most beautiful mountains in the world, the journey to the base camp of this mountain is filled with superb views of some of the world's tallest peaks, including Mount Everest, Thamserku, Lhotse, Nuptse, and Kantega.
To visit the Ama Dablam base camp, you start your journey from Lukla. The route to Ama Dablam Base Camp is less busy and crowded than the other Everest trails.
The trail winds past traditional Sherpa villages of Phakding. Namche, Tengboche, Pangboche, and Phortse. You reach Ama Dablam Base Camp after a short hike from Pangboche, the highest permanent settlement in the Everest Region.
As Sherpas are devout followers of Tibetan Buddhism, Buddhist icons and monuments decorate the landscape. At every bend or curve, you will find a mani wall, prayer flags, prayer wheels, or Chorten. Tibetan Buddhist culture is very much alive in this remote corner of the Himalayas.
An overnight stay at the village will allow you to visit the oldest Buddhist monastery in the Khumbu Region. Some interesting exhibits at the Pangboche Monastery include the preserved tongue, eyes, and heart of Lama Sanga Dorje, the patron saint of Khumbu.
It is indeed an awe-inspiring experience to view the entire mountain, from the base to the summit. From the base camp, Ama Dablam rises proudly, with its two peaks soaring up to a height of 6,812m and 6170m.
It takes 8 to 10 days to complete the Ama Dablam Base Camp Trek. It depends on the route you choose. For a more thrilling experience, you can combine this trek with the famous Everest Base Camp Trek.
If you need some ideas to plan your trek, you can check out the itineraries given below.
Trekking Routes
Available through out the year:
Jan
Feb
Mar
Apr
May
Jun
Jul
Aug
Sep
Oct
Nov
Dec

Available through out the year:
Jan
Feb
Mar
Apr
May
Jun
Jul
Aug
Sep
Oct
Nov
Dec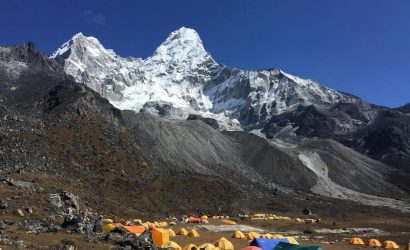 Available through out the year:
Jan
Feb
Mar
Apr
May
Jun
Jul
Aug
Sep
Oct
Nov
Dec