Upper Mustang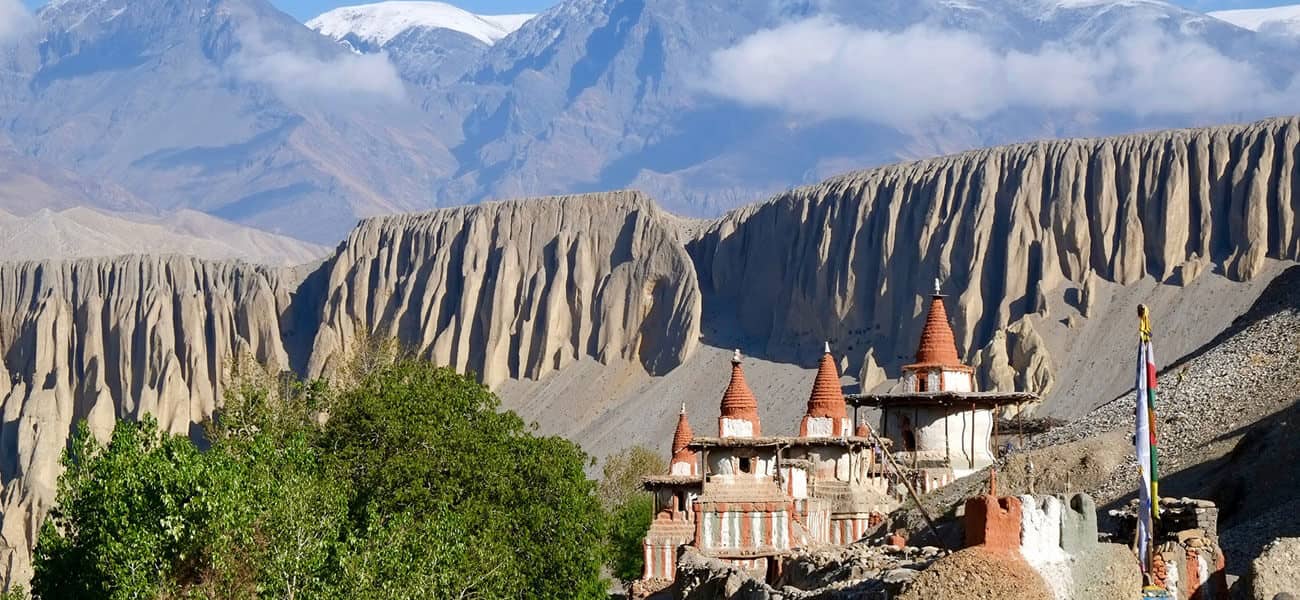 Mysterious, mystical, and magical, Upper Mustang seems like a destination straight out of a storybook. Located in the Annapurna Region close to the Tibetan plateau, this former kingdom lies isolated from modern civilisation.
Upper Mustang is one of the few places in the world where one can experience pure Tibetan Buddhist culture. Until 1992, no tourists were allowed in this area. It remains a restricted zone and only a handful of tourists visit Upper Mustang every year.
The arid terrain of Upper Mustang is very different from the lush green landscape one finds in the lower Annapurna region. Dramatic red hills and cliffs rise above the dusty tracks. The mighty Kali Gandaki River flows over deep ravines and forms the deepest gorge in the world.
Though a rough jeep track now connects this remote region with the rest of Nepal, life remains unchanged in the villages. People still practice the ancient Bon religion and Tibetan Buddhism. Here you will find ancient cave dwellings, Buddhist Gompas blessed by Padmasambhava himself and Bon shrines.
The former kingdom of Lho which controlled much of the trade that passed along the ancient Indo-Tibet trade route has still retained its majestic charm.
To visit this ancient kingdom, you can take an adventurous overland drive or trek from Jomsom. You can either fly or drive to Jomsom from Pokhara.
You can begin your Upper Mustang trip from either Kathmandu or Pokhara. Do check out our Upper Mustang itineraries created by our destination experts.
Trekking Routes